Thanksgiving Day Must Haves!!!
Making your shopping list for Thursday? Make sure to include these 8 Thanksgiving Day Must Haves: Tessemae's Gluten-Free Condiments & Dressings, Slateplate, Glamma Wine, Bowl Huggers, Tea Drops, Scrumptious Brownies, Endless Games Camera Roll and Rooster Race by Rooster Fin!
Gluten-Free Condiments & Dressings – Tessemae's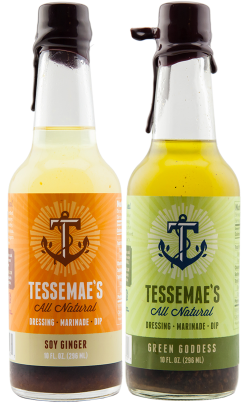 Feed your healthy loving soul this holiday season! Keep it real and and enliven salads, veggie trays, meats and more – Tessemae's products are gluten-free, all-natural, sugar-free, dairy-free, non-GMO, and contain zero additives or preservatives. Tessemae's has more than 20 tantalizing condiments, spreads, and dressings to choose from, including a delicious Slow Roasted Garlic Spread, Green Goddess Dressing, All-Natural Mayonnaise, Lemon Chesapeake Dressing, Honey Mustard Dressing, and Southwest Ranch Dressing. The growing line of fresh condiments are available nationwide at Whole Foods, Safeway, Kroger, Fresh Market, Marianos, and Gelsens. www.tessemaes.com
Slateplate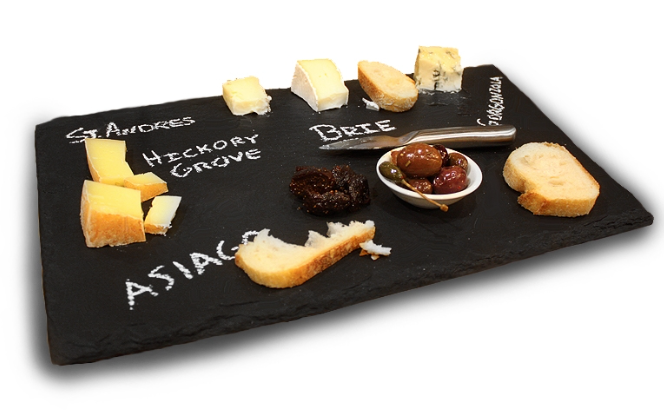 Slateplate makes cheese boards, plates, serving trays, chalkboards, L'Amuse Bouche Slates and coasters using only real, natural North American black slate. Each Slateplate is leveled and finished with clear, non-slip acrylic feet. Use the included stick of pure soapstone chalk, which is completely natural and food safe, to write food varieties directly on the Slateplate. Perfect for serving cheese, meat, appetizers and desserts. Personalize your Slateplate and have it laser engraved with monograms, personal messages, dates, logos and pictures. Prices vary. www.slateplate.com.
Glamma Wine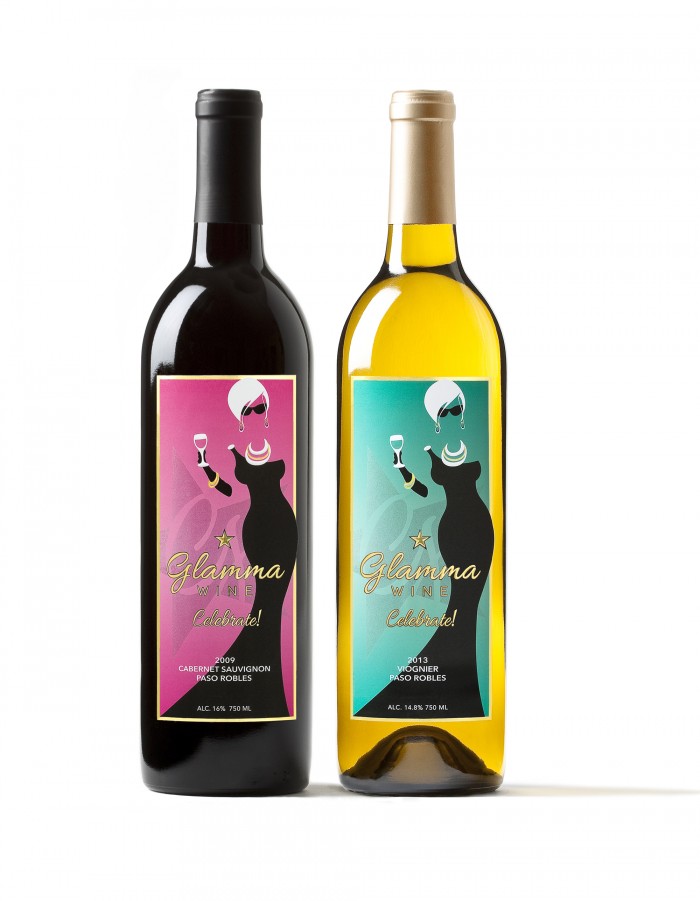 Gather 'round with family and friends this Thanksgiving and enjoy a glass of Glamma Wine. This fun and festive brand is all about sharing laughs and creating memories over a good glass of wine. Choose from Bubble Bling, Chardonnay, Cabernet Sauvignon and a Viognier. All pair perfectly with the flavors and foods served on Thanksgiving. Check out the Glamma Wine collection at www.glammawine.com.
Bowl Huggers
Got Leftovers? Embrace The Brand New Bowl Huggers Solution In Your Kitchen Refrigerator Three cheers for saving leftovers get in the food-grade silicone spirit by sharing Bowl Huggers, a sure-fit reusable lid solution created by the team that released the reusable fruit and veggie savers, Food Huggers and Avocado Huggers.
The Bowl Huggers are currently available in two sizes and fit most individual sized serving bowls.  They are 100% dishwasher safe, freezer safe and BPA and Phthalate free. www.foodhuggers.com
Tea Drops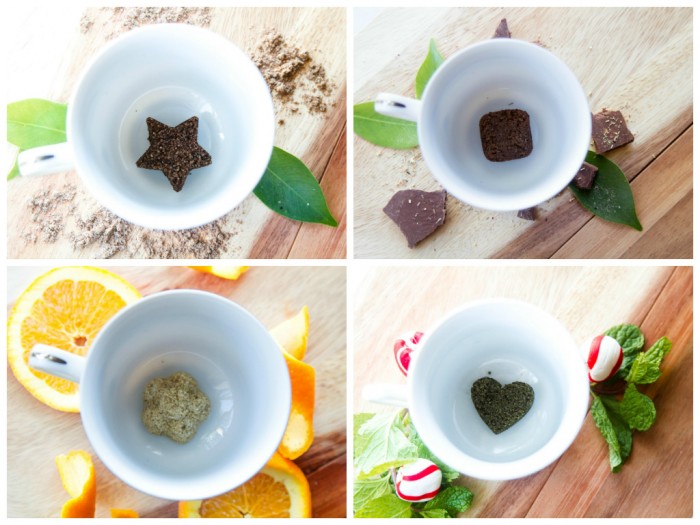 Tea Drops (come in heart, star and flower shapes too) – serve up one organic tea drop with hot water and you are set to relax and enjoy after dinner tea by the fire. www.MyTeaDrop.com
Scrumptious Brownies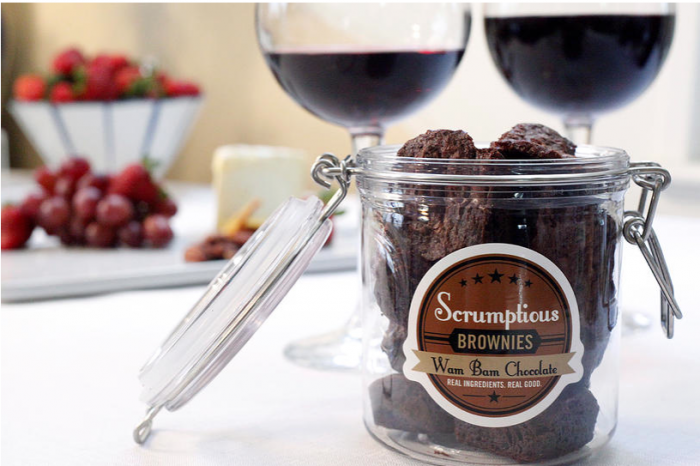 Share the love (and blissful brownie bites) this Thanksgiving with Scrumptious Brownies, which are tiny, bite-sized brownies that are too good to resist! These freshly baked brownie bites to go are the perfect item to serve or take along as a hostess gift! Just like brownies you would make yourself, with real butter, pure vanilla and 100% pure cocoa, packaged beautifully for gift-giving and sharing! Scrumptious Brownies now offers a Gooey Gluten Free version, which people say is the best gluten-free brownie that they have ever had…try it for yourself!
Whatever the occasion, Scrumptious Brownies ships fresh to the recipient, gift-wrapped with a hand-written note. Choose from four sizes, including The Brownie Jar, The Box of 3, The Box of 4, and The Big Jar (which includes 7 dozen bites plus napkins and tongs). YUM! http://www.scrumptiousbrownies.com
Enjoy some good old-fashioned family fun. Gather around after dinner and roll out the games!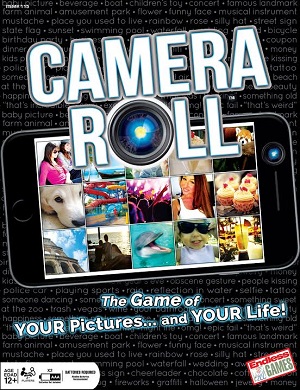 Camera Roll the most popular camera in the world is an iPhone – but how often do you look at those pictures? Do you really know what you have on your camera roll? Do you have a snapshot from a BIRTHDAY PARTY? How about a picture from your VACATION? Maybe now you'll find a reason to show off that SUNSET pic you took 6 months ago! You have 30 seconds to find it. Every player is involved in every round! Just find a photo with whatever the card says. Will YOUR picture best fit the card description? Will you have the winning CAMERA ROLL? Ages 12+ www.endlessgames.com
Rooster fin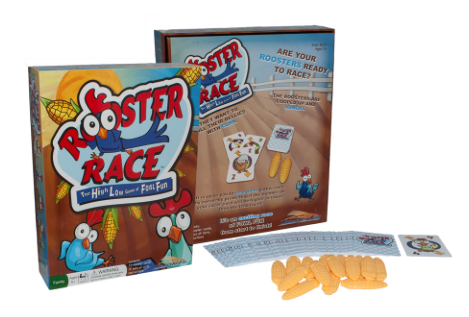 Help your roosters gather corn in this high low game of fowl fun! Rooster Race™ is a fun simple card game that suits all ages, from kids, teens, college students, parents, and grandparents. If you can count to 15, you can play Rooster Race™. The object of the game is to make educated guesses; to predict if the value of the top card in your card stack is higher or lower than the last card played by your opponent. If you have ever played war or blackjack, Rooster Race™ will be your next card game favorite for family game night! $19.99 www.roosterfin.com
---
Share this article: