Best of 2016!
2016 was a good year to be an Orca client! The hits practically didn't stop! We're so proud of all the fantastic earned media coverage our clients received. It was difficult to narrow it down, but here are a few of our favorite placements of the past year.
We wish you all a very prosperous 2017! Cheers!
Our team landed numerous clients on NBC's "TODAY Show"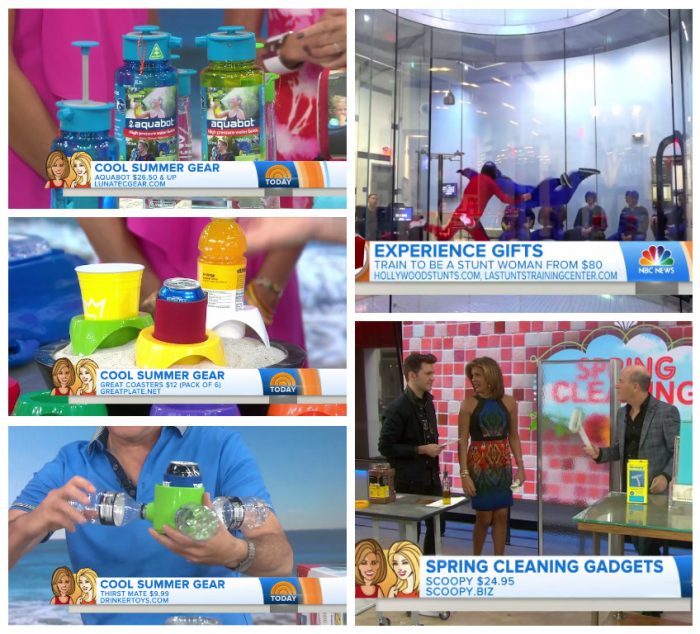 in 2016 including The Great Coaster in a segment about Summer Fun Gadgets, Scoopy as a spring cleaning fix, and iFly as a unique 'experience' gift this holiday season:  http://on.today.com/2hzE9zE  http://on.today.com/2h3zhR0  http://on.today.com/1pdiSw3
Our client's dream came true when we placed his awesome product, HyperChiller, in the September issue of O, The Oprah Magazine!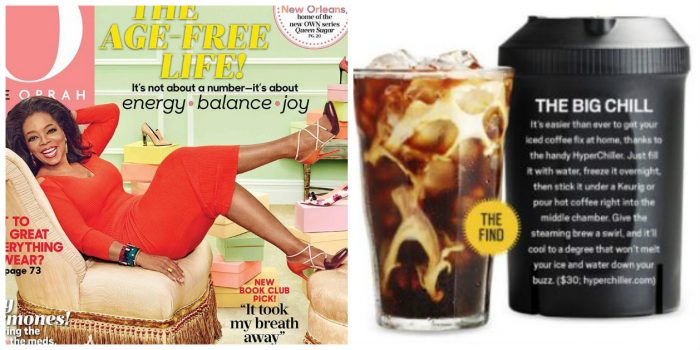 Our client Fusion Gates was placed in a beautiful spread in the November issue of Better Homes & Gardens Magazine!
Our client The Great Plate received incredible exposure when we nabbed them coverage on The Rachael Ray Show! http://rach.tv/2ipBbPo
Good Housekeeping Magazine shared a heartwarming and riveting four-page story that included our client Family Tree DNA in the June issue!
Our client GrowOya was also prominently featured in the May issue! And its online counterpart, GoodHouskeeping.com, featured our client DoorBird as one of the best new smart home products: http://bit.ly/2hCoKA3
The New York Times printed a wonderful review of our client Pubware in June:  http://nyti.ms/2ipAlC7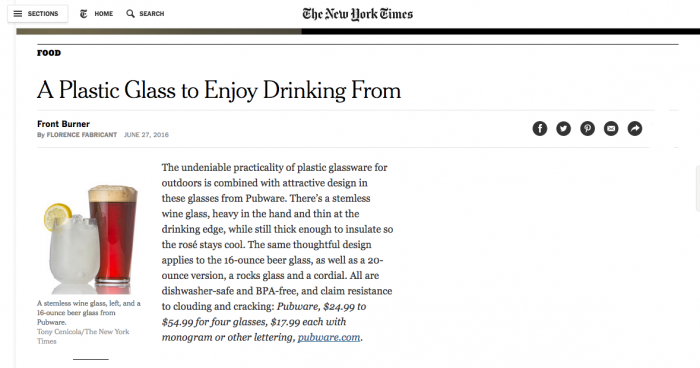 After months of hard work, our client Family Tree DNA was part of a tear-jerking story on ABC's 20/20 . Thanks to Family Tree DNA, adoptees across the country are learning how they can locate their biological relatives. http://abcn.ws/1nAKf32
CNN.com included Genius Pack and Airpocket in this roundup of "8 hottest new accessories for travelers." http://cnn.it/2ipAuWb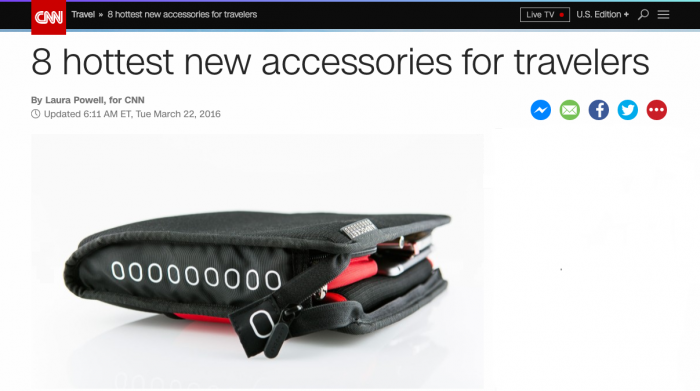 It's common practice around our office to score coverage for clients on the goliath Huffington Post … just a few featured in 2016 include Onanoff, Meriwether Gifts, and Bullets2Bandages: http://huff.to/2ixCV6c   http://huff.to/1Z381AS
Got tech? Need PR? Orca has you covered! Our publicists secured a wide variety of great features this year for clients in the tech space, including LinkPlay Cobblestone on The Gadgeteer and Onanoff and Gululu on Android Guys: http://bit.ly/2ilkguZ   http://bit.ly/2ify3F6   http://bit.ly/29PutKl
Earin made a big splash at CES with the world's smallest wireless earbuds, and CNET's review was glowing! They also conducted a live interview from the scene: http://cnet.co/1ZT13Qn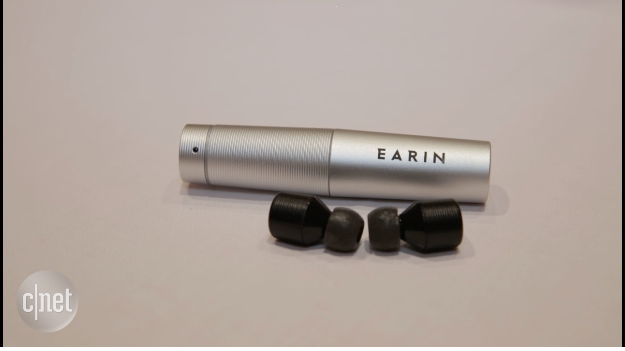 Powerhouse Techcrunch agreed that our client PunkPost was a brilliant and time-saving alternative to writing handwritten notes: http://tcrn.ch/2hTZX6w
Tech Times raved about our client Earin saying they're the wireless earbuds they were looking for: http://bit.ly/2hwNB3c
Inc.com chose our client Hydaway bottle as a great gift under $30 for millennials: http://on.inc.com/2heR4UD
Boasting 6.1 billion monthly readers, Yahoo.com featured Orca client Gekkopod as one of eight great tech gifts this holiday season: https://yhoo.it/2htUNkJ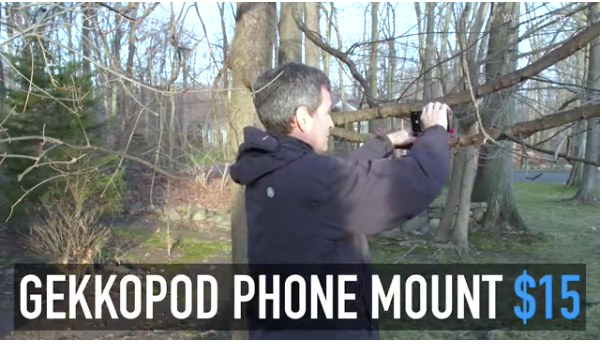 Bullets2Bandages was featured at the top of the list on FoxNews.com in the  2016 Father's Day Gift Guide: http://fxn.ws/1ssTaWt
Our publicists landed many clients – Hydaway Bottle, Goodhangups, and Gululu Interactive – on Forbes.com this year: http://bit.ly/2hzPfVc   http://bit.ly/2ipyi0J
In June, our client Genius Pack shined in the glossy pages of Real Simple Magazine. And the mag's online counterpart, RealSimple.com, couldn't get enough of Orca clients this year! Multiple clients were chosen as clever solutions, including PhoneSoap, deFUNkit, Goodhangups, Barbarian Bar Tools, Hydaway Bottle, The Beach Glass and Peekaboos Ponytail Hats:
http://bit.ly/1RQ2U4y  http://bit.ly/2iNc5KW  http://bit.ly/2ipFA4R  http://bit.ly/2iMBkJj
Gear Patrol, the wildly popular daily magazine for men, featured Orca client the Hydaway bottle in a story about celebrating the Great American Summer! http://bit.ly/29vwX0n
The bible of outdoor adventure, Outside Magazine, shared our client deFUNkit with its millions of online readers – and after receiving hundreds of orders, they SOLD OUT on Amazon.com! http://bit.ly/2ilfA8j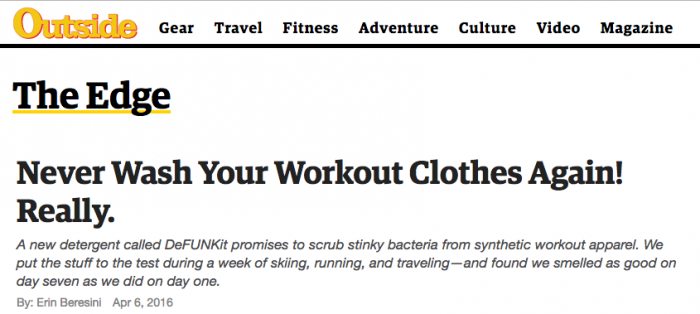 In-flight magazines can be a publicity/sales bonanza for a product, since the magazine is read and re-read by thousands of passengers. Orca publicists snagged features for two clients – Hydaway Bottle and Onanoff – in the July edition of Delta SKY Magazine. http://bit.ly/2hUmrnX
The 11 million plus readers of Scholastic.com are interested in cool educational tech tools and Orca client BuddyPhones is a perfect fit!:  http://bit.ly/2hvCTeu
Taking pics with your pooch just got easier! Dogster Magazine featured Orca client Pooch Selfie: http://bit.ly/2ilRIl3
HandsOn Gloves grooming and bathing solution for pets is the "pick of the litter" being selected by PEOPLE magazine editors in an article about "10 Affordable Stocking Stuffers for the Pets and Animal Lovers in Your Life!"  This was actually their 2nd feature this year on this popular site! http://bit.ly/2hUlFqY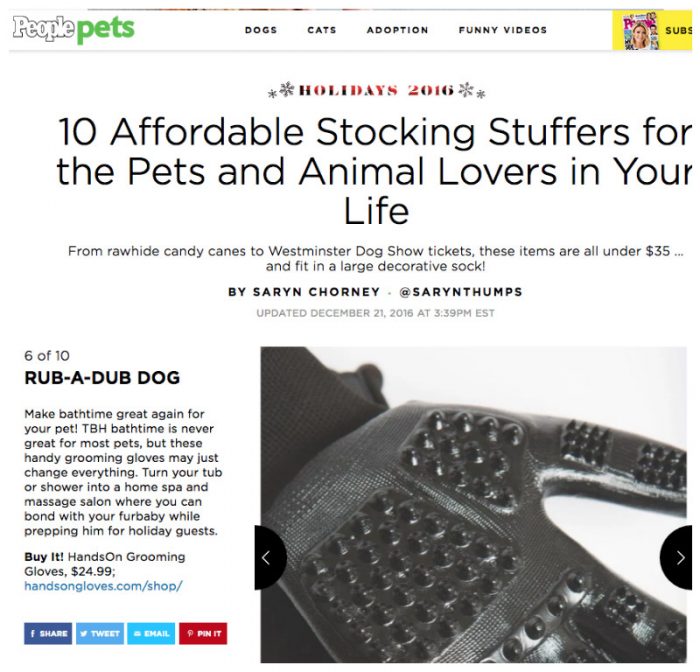 SELF.com  featured The Running Buddy in a article titled "23 Gifts For The Runner In Your Life.": http://bit.ly/2h9Et8B
PhoneSoap shined on HGTV.com in a story about cleaning your cell phone of germs: http://bit.ly/2iy4fkP
Life & Style Weekly Magazine featured a few of our clients this year, including Mama & Little and Creatix Solutions.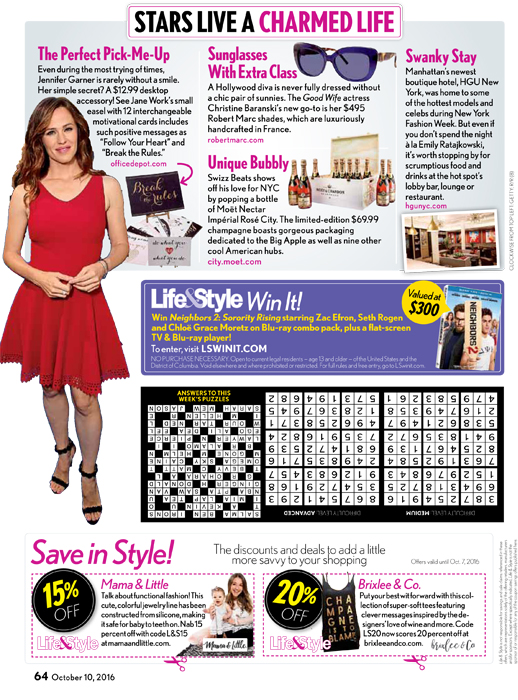 PARADE Magazine and its online counterpart Parade.com showcased The Crocodile Clutch Buddy Pouch in January: http://bit.ly/1PkD8I5
We grabbed the attention of editors at About.com for our clients Mobius Nutrition, HyperChiller, Trivae and Airpocket: http://abt.cm/1WvtK5q http://abt.cm/2ig2hb7 http://abt.cm/2ixX785
The newsstand darling Woman's World Magazine featured more Orca clients than we can count this year! A few include Runbell, BugBand, Little Mr., RearViz, Nature's Rite, SnapLaces and many, many more.
Yoga Digest Magazine showcased two Orca clients this year:  JadeYoga in the March issue and Lillian Eve in the September issue.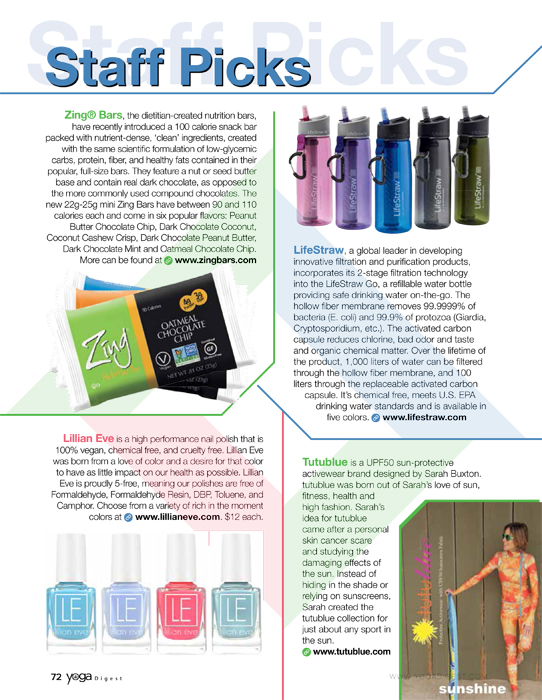 Editors at Town & Country Magazine were excited to share our client Petite Plume with their online readers: http://bit.ly/2hxbub5
Editors at Pregnancy & Newborn Magazine frequently turn to Orca to find the hottest new gear for babies and moms, and our clients Petite Plume, Buckaroo Organics, and KINZINGO Kids graced their glossy pages in 2016.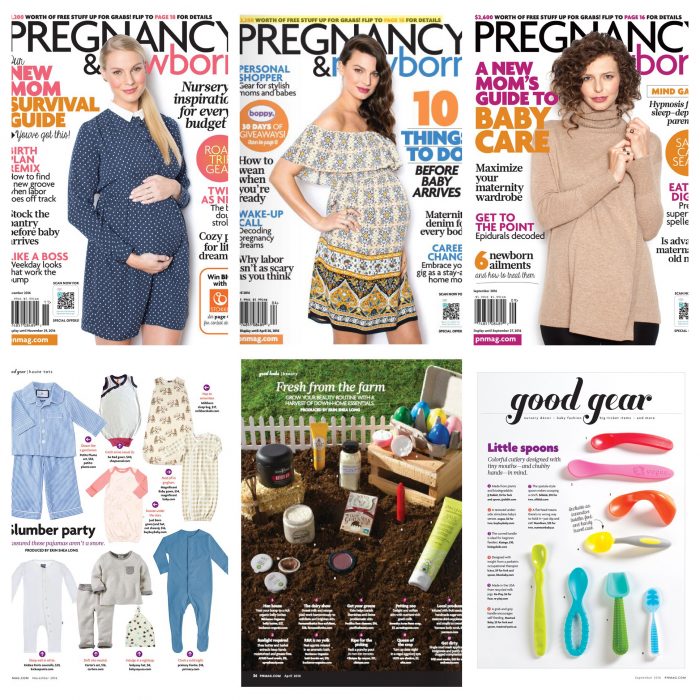 We landed our client DockATot on the go-to celebrity gossip site Radaronline.com in the "What's Hot Right Now for Celebs" section:   http://bit.ly/1OZaFHx
Our pitching resulted in a fabulous interview on "The Hoda Show" on SiriusXM TODAY Show Radio for our client Bennett Greenspan, the CEO/Founder of Family Tree DNA.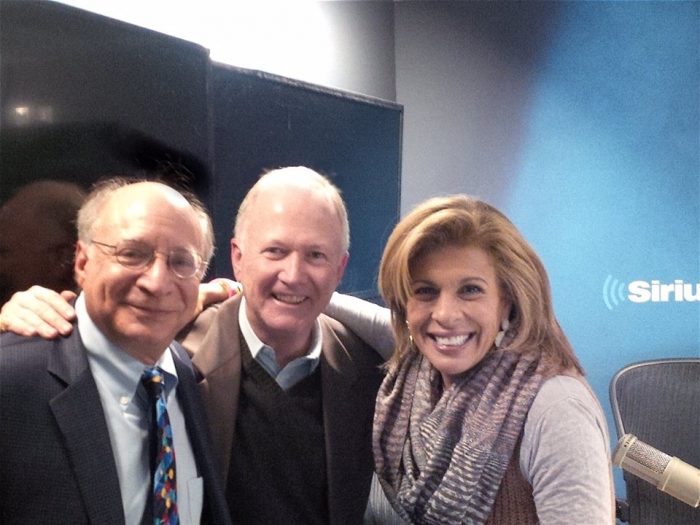 A huge honor for Hudway Glass, which made Fast Company's coveted list of the "Top 10 Most Innovative Companies in the Automotive Industry of 2016."
Leading fitness website Active.com used the expertise of Orca client Fit Radio to give its readers a Best Running Songs by Decade playlist:  http://bit.ly/1Rp5A6a
It's a great day at HyperChiller when the nationally syndicated Elvis Duran Morning Show talks about how awesome your product is!: http://bit.ly/2iNMq4x
The extremely popular parenting website Red Tricycle was a fan of numerous Orca clients this year, including: Janiebee, Free To Be Kids, The Buddy Pouch, BugBand, Sleep Hero, Molly's Bakeovers, WOW Butter and Ice Chips Candy!  http://bit.ly/2hxbLuD  http://bit.ly/28MXj0Y  http://bit.ly/2eiislv http://bit.ly/2hCP5Or   http://bit.ly/2ig07rY   http://bit.ly/2hAuw3J
IN TOUCH Magazine gave a shout out to our client DockATot as being a fave product of Kourtney Kardashian.
Orca clients TINE Tags, UV Skinz and HyperChiller were chosen as three of this year's hottest gifts for Father's Day by Business First TV  (which airs in over 35+ TV markets!)
Us Weekly Magazine chose our client Insect Lore as a top back to school pick and our client Pirasta Coloring Posters as an excellent holiday gift!
Our client Tweexy was featured on Buzzfeed.com in an article about "Beauty items every woman should know about in her 20s!"  http://bzfd.it/2hUmv76
We landed amazing coverage for our client Nightlight Christian Adoptions on Fox National News with dozens of FOX affiliates across the country picking up the story: http://fxn.ws/2bG6ioy
 Smarter Travel posted positive reviews of various Orca clients this year, including Genius Pack, SIC Cups and Airpocket: http://bit.ly/1LkYAFS  http://bit.ly/2hAzrBH  http://bit.ly/2iN6UGH
Country Living Magazine ran a story in the May 2016 issue and included Pubware in the "How to Party" section.
Golf Vacations Magazine featured the PGF-V Personal Golf Fan in the May 2016 issue.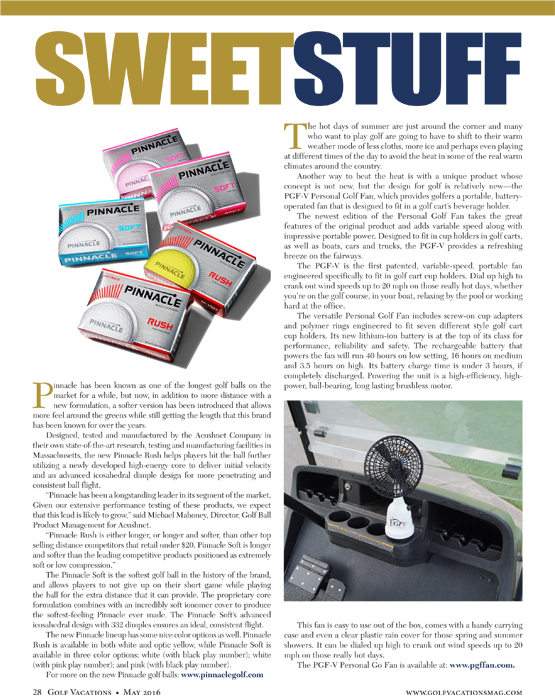 The Chicago Tribune, one of the most respected newspapers in the country, featured three Orca clients in their prestigious 2016 Holiday Gift Guide – AER, Hydaway Bottle and NapAnywhere.
Men's Journal.com featured the Genius Pack in this roundup of "Smarter Gear to Make Flying More Comfortable": http://mjm.ag/2hCKjjO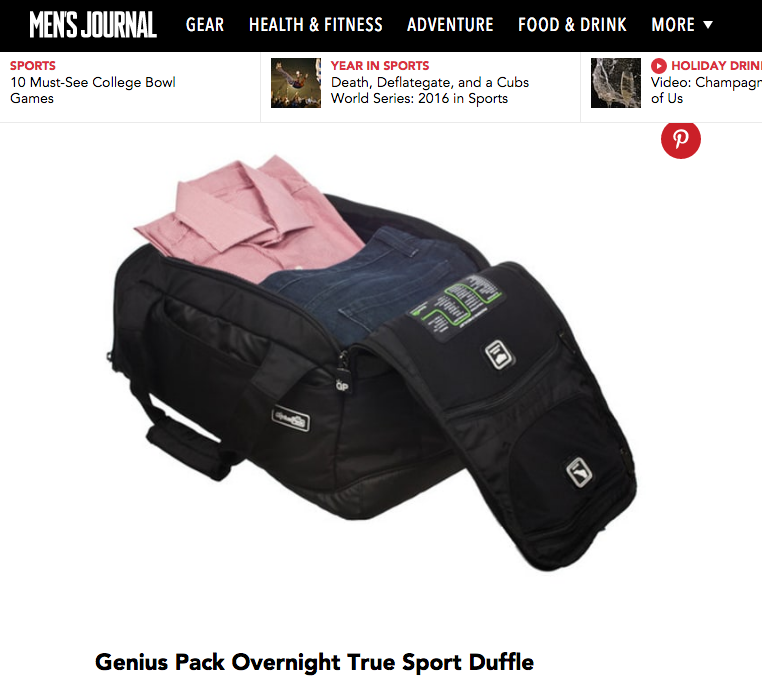 MensFitness.com and Newsweek.com included the Barbarian Bar Tool in their Father's Day Gift Guides: http://bit.ly/2iN8sQR http://bit.ly/1tuf1wJ
US News & World Report included our client Genius Pack in a travel gear round-up:http://bit.ly/2iq0ErO  additionally, we got our clients Bokos and Cape Cod Beach Chair included in a perfectly fitting round-up of must-have beachfinds: http://bit.ly/2hUpBYU
Orca secured a fantastic feature for Uptown Artworks on BridalGuide.com:  http://bit.ly/2dddCWR
PR dreams do come true! Our publicists landed SkinnyMe Bangles in their wish list outlet, Weight Watchers Magazine, in the September/October issue.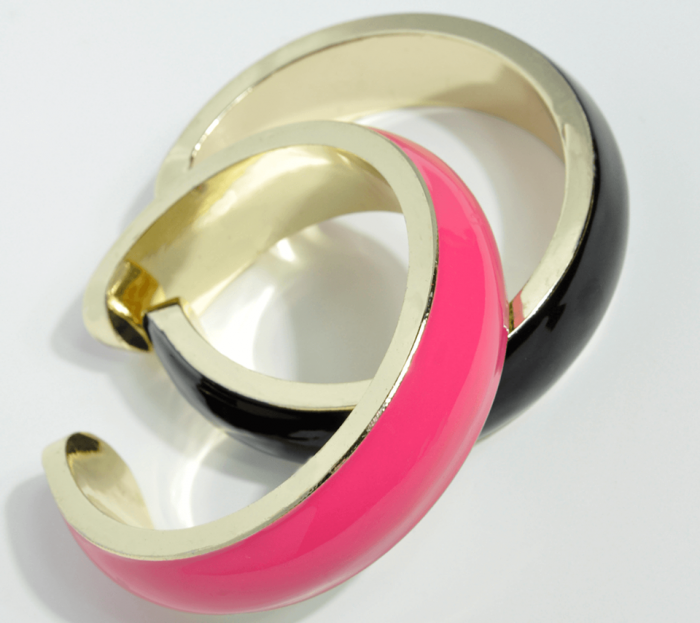 People.com responded to our story suggestion of Jack Terrel, who used Family Tree DNA to find his biological family, and shared it with their readers. Get your tissues out! http://bit.ly/2iNTBde
We get advice from doctors all the time – but do THEY listen to their own words? Reader's Digest.com  sought the expertise of our client Austin Cancer Centers for an article titled "15 Things Cancer Doctors Do to Avoid Cancer":  http://bit.ly/2hUshFQ
Women's Running.com alerted its readers to the fabulous find Fit Radio, the #1 workout music app. Fit Radio VP, Lexi Bellassai, shared great tips for building the perfect playlist: http://bit.ly/2iNN1DE
Orca secured a spot for Modern Sprout in Newsday's holiday gift guide; the 8th largest newspaper in the country also featured our client Store-A-Tooth in an informative piece about dental stem cell banking: http://nwsdy.li/2iq3Wvg http://nwsdy.li/2hxfZTb
The #1 pregnancy & parenting digital destination, BabyCenter.com, featured 5 great tips from our client Deanna Bufo Novak, author of My Heritage Book: http://bit.ly/1M4TAFD
Moreover, our publicists landed amazing coverage here for our client Nightlight Christian Adoptions – the miraculous story of a donated embryo thawed after 17 years that would become a precious baby girl named "Marley!" http://bit.ly/2hUjP9M
---
Share this article: